Case 10: Cosmology gallery exhibition
Return to index
This exhibition is located at the Cosmology Gallery that is part of the Gravitational Discovery Center near GinGin in West Australia. It comprises of a large gallery space, 20m in diameter and a unique buckball (carbon 60) dome. The proposal was to project movies (telling the story of cosmology from 5 different religions) onto the dome and for them to be masked to lie within the 5 pentagonal tiles of the dome. The solution was 5 Mac Minis, each located adjacent to a data projector.
The intention was to lay minimal cables since the openness of the gallery would make them noticeable and the cable runs would be extensive (especially for video). As such the Mac Minis are located next to each projector and a wireless network in supplied with a AirPort Extreme. A 6th Mac Mini and display allows all the others to be remotely controlled using an AirPort Extreme based network and screen sharing. This wireless network also permits synchronised content to be generated, that is, for there to be a connection between events on each display panel. The audio is supplied by FM transmitters on each Mac Mini and small tunable receivers attached to headphones. As such individuals in the gallery can tune into the audio for the panel display they are watching.
Photos
| | | |
| --- | --- | --- |
| External view of the gallery. | | One of the 5 panels. |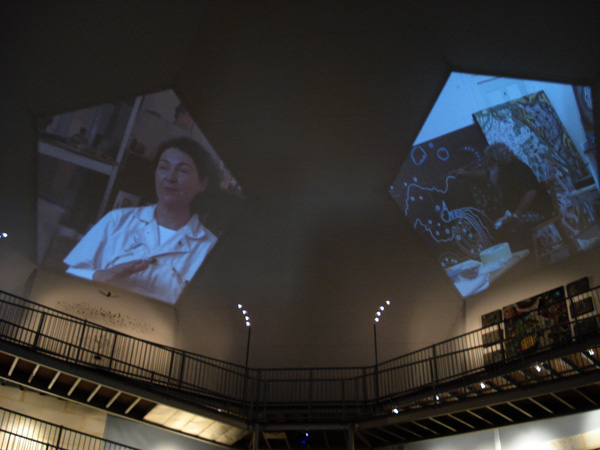 Two of the 5 panels.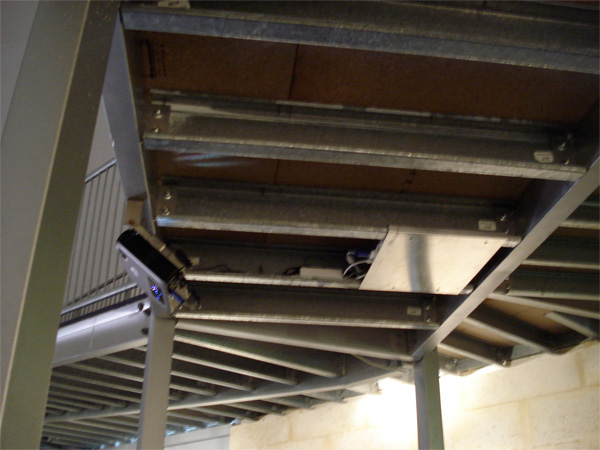 One of the projector and Mac Mini pairs.
Very simple Quartz composer composition: maskplayer.qtz
Hardware
6 x Mac mini's, 5 for the projected works, one as a controller
5 x Dell XGA resolution projectors.
5 x FM transmitters with a "large" number of tunable receivers and headphones.
Airport Extreme for wireless network, allows content upload (file sharing) and show control (screen sharing).