Total Lunar Eclipse (2000)
Starting 20:47, Sunday July 16, 2000 (Local time)
Ending 3:05, Monday July 17, 2000 (Local time)

Current local time: Sunday, 03-Dec-2023 22:01:19 EST
Click on any image on these pages for a full size version.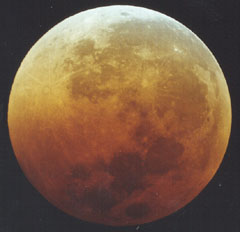 For another camera and more information on the eclipse, see the Astronomical Society of Victoria. Visit Universe Today for a complete list of astrocameras.
Have a look at the gallery of past images.

Obligatory counter:
28,969 hits to the front page.
Almost 350,000 files served.
(Started 6pm Sunday, Stopped 2am Monday)
Quicktime movie from 8:45 until 11:15 pm.