A Snapshot of Bangalore, India
Written by Paul Bourke
February 2006, Update May 2012.
The following are some photos and brief notes on a recent trip to Bangalore (India). This is by no means supposed to be a comprehensive travel guide since I was only there a week and thus grossly under qualified, they are however my observations that other travellers may find useful.
Toot-toots
Besides getting a taxi from the airport (about $10) the most convenient form of transport around the city is the toot-toot, a three wheeled two stroke engine that can carry two adults. The driver will typically try to charge you a flat rate to your destination, you should generally insist on using the meter. The rate is something around 10 rupee (30 cents) for 2km. Directions typically need to be given verbally, the place or street name, the most annoying/strange thing is that while these drivers spend their days on the roads of Bangalore I never found one who could read a map!
Streets
The traffic can be pretty horrendous and uncomfortable when you're sitting in the open toot-toot breathing the fumes from diesel vehicles and motorbikes. The most obvious thing about being on the busy streets is the frequent use of horns. While sometimes used in anger, they seem mostly to be used simply to indicate ones presence to other vehicles and pedestrians.
In general I didn't consider the shopping to be anything special, there isn't a central shopping district (that I found). One of the main streets for tourist style shopping is Mahatma Gandhi Rd, generally just referred to as MG Road. A couple of roads off MG Road with shopping include Residency and St Marks Rd. Another interesting area to visit is called as Commercial Rd, it consists of 3 to 4 blocks of shops along narrow streets.
Old cars
There are a fair number of old cars, well actually they can be new cars but based upon designs from European models from the 1960s. The most common model is called the Ambassador, well represented among taxis and rental cars.
Cows
While pedestrians seem to be "fair game" on the roads, the cows get free reign. They also seemed rather well fed and healthy (more so than many of the human inhabitants on the same roads) even though I saw little pasture and didn't see anyone feeding them.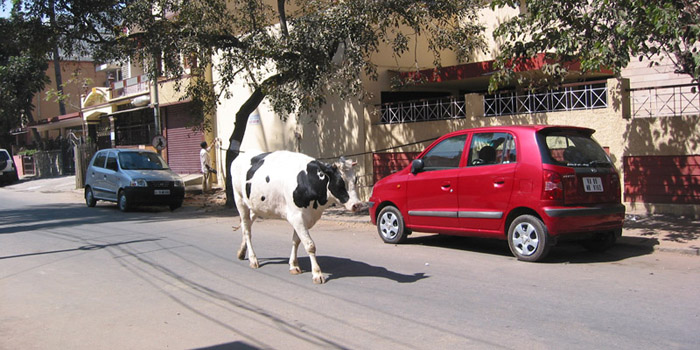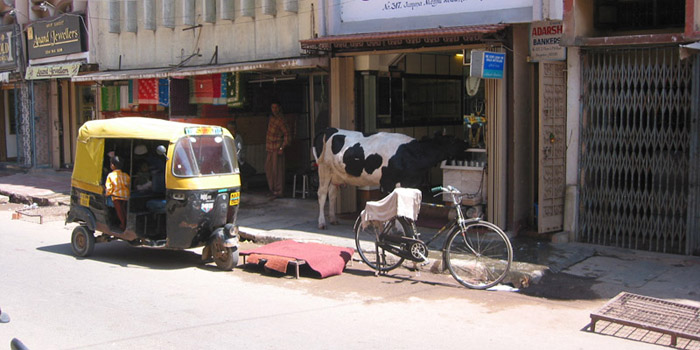 Temples
There are more temples than you can "shake a stick at". Many are tucked away on small back streets and you have a good chance of dropping in on a ceremony. Of course you won't have any idea what's going on but your presence won't be resented as long as you act respectfully. Photos are also not a problem as long as it is done discretely, turn off those flashes! It's not a bad way to spend a day, going from temple to temple on the toot-toots, the drivers generally know the way to these temples.
While there are clearly some problems between Muslims and Hindu in the north, at least here the two temples and devotees seem to be able to live side-by-side. This temple is located at one end of Commercial Rd.
Gods and spirits
As one might expect there are all sorts of statues and carving to a whole host of deities.
Other
For the first time visitor there is lots of exploring to do. There are a number of small lakes dotted around the city, the one shown here is Ulsoor Lake and was evidently poison a few weeks before I arrived and all the fish died ... not sure if it was chemical or the weed that seemed to have taken over.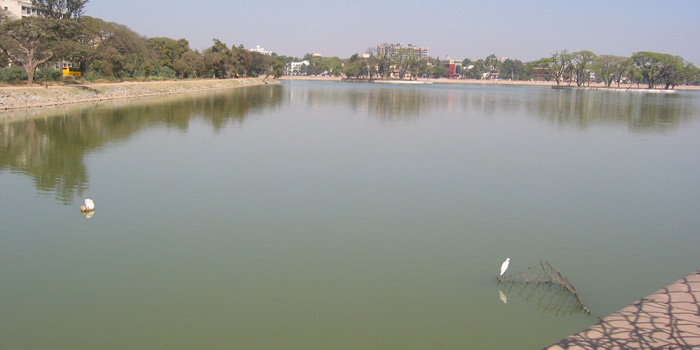 The footpaths generally seemed to be in various states of disintegration and repair. There are also some extremely poor areas in the middle of the city.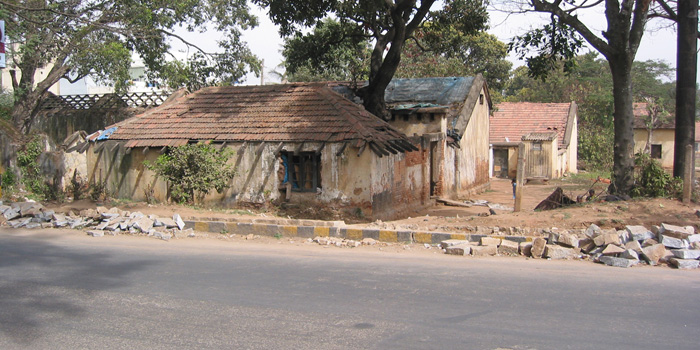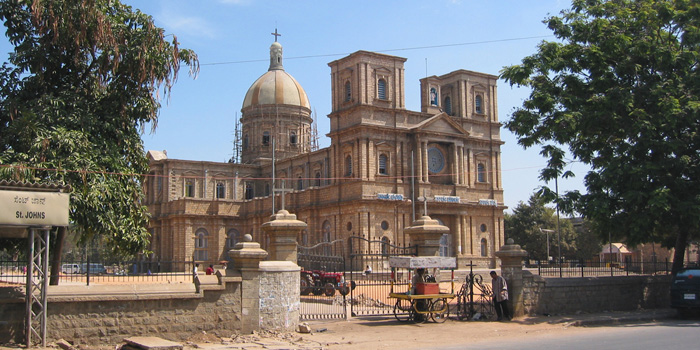 I saw a number of these washing "farms", fairly large parcels of land in the city dedicated to drying washing from a local clothes cleaning service I presume.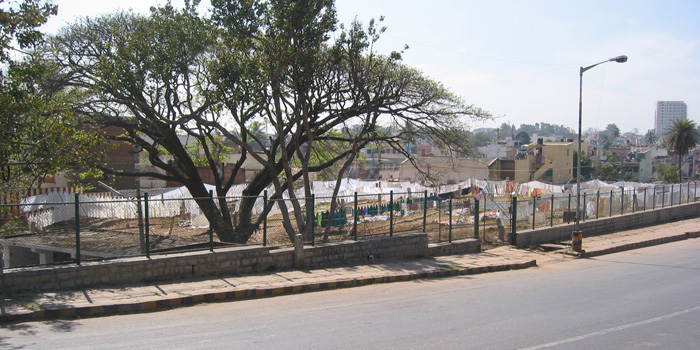 For a bowl of water give a goodly meal
For a kindly greeting bow thou down with zeal
For a simple penny pay thou back with gold
If thy life be rescued, life do not withhold
Thus the words and actions of the wise regard
Every little service tenfold they reward
But the truly noble know all men as one
And return with gladness good for evil done.
Additional notes
There is a severe shortage of accommodation, make sure you book hotels well in advance.

Keep a collection to 10 and 20 Rupee notes for tips for the guys at the airport who will (aggressively) try to help you with your bags, and the hotel staff. They can be quite hard to discourage at times if you don't want or need their help.

The airport is not the most exciting or relaxing I've been to and unfortunately the queues can be long if there are a couple of flights leaving at once.

There are a fair number of beggars. Many, especially the children can be very persistent when it comes to foreigners. A large number of them seem to be "professional" beggars.

There are a number of parks dotted around the city, on the whole they seemed fairly run down and uninspiring.

There are at least 100 television channels, I never worked out whether it was possible to use the remote to go over channel 99. A good number seem to be Indian "musicals" that can be quite entertaining, for a little while.

As with many countries in the Asia region, public toilets are generally paid entry. At either 1 or 2 rupee it is hardly going to be a major travel expense.
Update May 2012

Virtual tour of the Bull temple.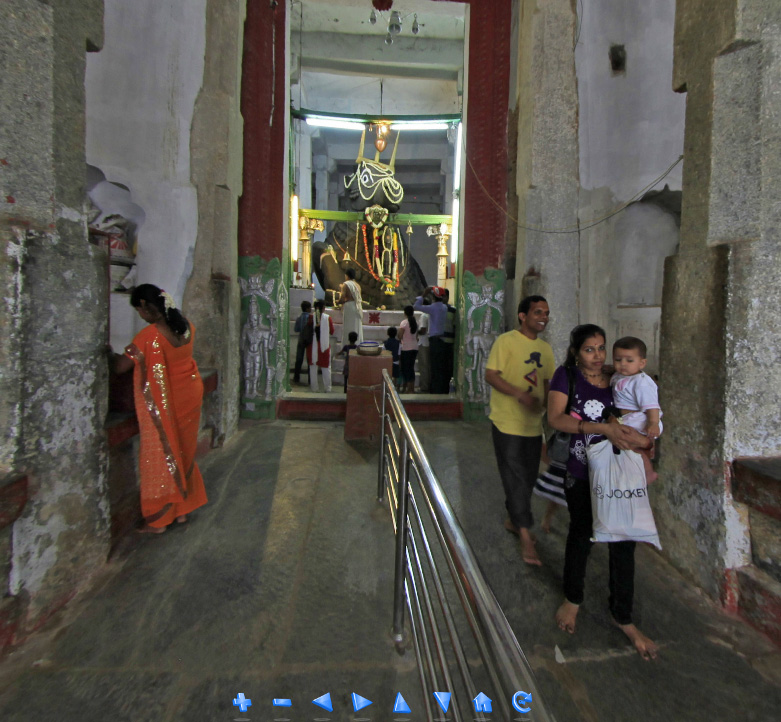 Virtual tour.

An underground network of tunnels turned into a temple. Unfortunately no photos allowed of the deities on the inside, besides it was almost totally black. At winter solstice the shadow of the large stone disk on the right matches perfectly with the similar disk on the left.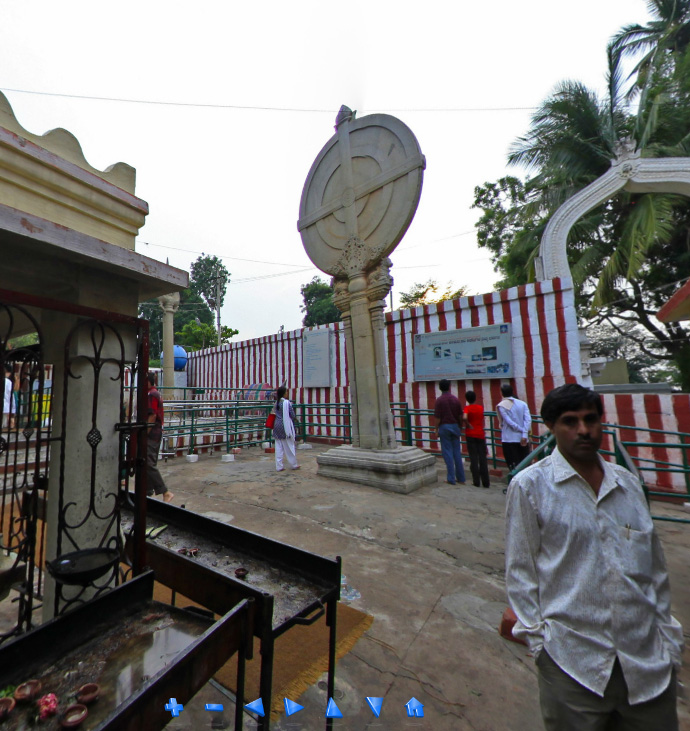 Commercial street at night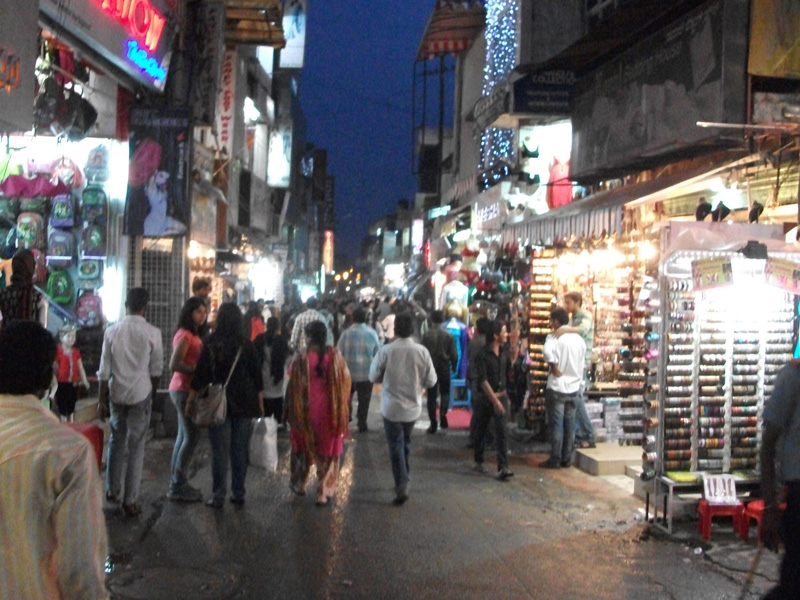 And finally, the humorous signs.