Seoul (South Korea) in half a day
Written by Paul Bourke
October 2010
Please note that details in the following may be out of date by the time you read this. This is especially so for any prices quoted here. Or in the standard legalise: "I provide no warranty that the information is correct or that it should be relied upon in any way."
From the title one might imagine this is going to tell you how to see Seoul in half a day, instead it is a record of half a day I spent in Seoul. In many ways Seoul is just like any other large city in the region but one can still manage to find places devoid of tourists and quirky things unique to Seoul.
Trains
The train system is by far the easiest way to get around and very affordable, most trips being under AU$1. The trains are clean and run every 5 to 10 minutes, perhaps the only rival I've experienced would be Japan. The routes are colour coded and signage clear. From the airport you have a choice of a train service, personally I think the buses are better (about AU$15) for a very comfortable "limousine" bus. If you are staying in a major hotel they will go directly, if your hotel isn't one of them then go to the closest and get a taxi from there. The train service is faster but you miss seeing much of the city since it is underground and you still need to negotiate your way to your hotel.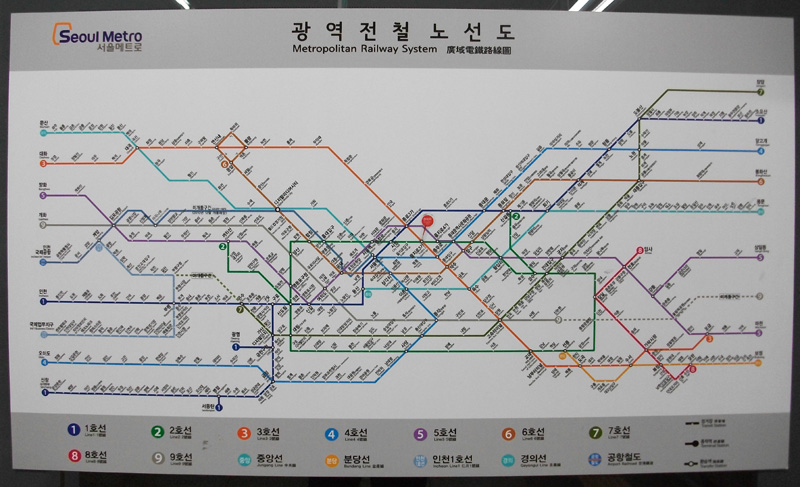 | | |
| --- | --- |
| | There seem to be two types of ticket, short/single trip and a rechargeable card. If you plan to use the trains more than once the rechargeable cards (Seoul CityPass) are the way to go, just swipe them on the gates into or out of each station and your current charge and balance will be displayed. Actually I wonder what the point of the single trip tickets is. It can be a bit of a challenge getting your first card because while the single trip machines have an "English" button, the rechargeable cards don't seem to but rather have a mixture of Korean and English on each screen ... in variable degrees. The whole system is very simple, after you've done it once. There are sometimes attendants at the main stations who can help. |
| | |
| --- | --- |
| | There are some disturbing cabinets in each station with gas masks along with instructions. I'm not too sure just what the expected threat is, but it s also clear that there would not be nearly enough masks to go around during even light traveller periods. |
If you plan to travel by train (which I recommend) you may want to make sure you are in shape. There were too many long sets of stairs for my liking especially as the day wears on. There are frequent escalators but they seem to get less common the further out you go and they are frequently out of order.
Gwacheon National Science Museum and planetarium
The National Science Museum (called the "Scientorium") is of exceptional quality and packed with patrons during the week day and the Saturday I visited. It is located within the Seoul Grand Park so there are lots of things to do in the surrounding area including an amusement park, botanical gardens, and the zoo.

The planetarium is equally of exceptional quality. It is 25m diameter and driven by a dual optomechanical system and a high quality digital projection system, supplied by Konico Minolta as a beautifully integrated system. The presenter was very professional, I assume accurate but it was in Korean so I can't be sure. As per many digital planetariums the show consisted of a traditional star/constellation discussion followed by a fulldome show, in this case run using "Digital Sky".
Seodaemun Prison and Dongnimmun Independence Gate
This whole complex (prison and independence gate) are dedicated to the patriots who were tortured and generally died during the Japanese occupation. The engraved mural tells the occupation story from both ends, celebratory independence in the middle. The names of the patriots are engraved in the marble below the mural, they can also be found lining the wall of the Dongnimmun train station.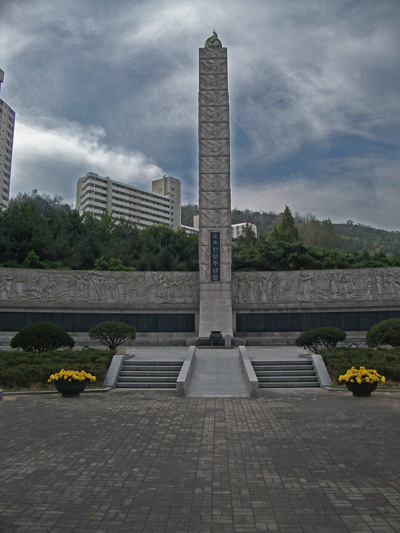 The prison tour is interesting although clearly some nasty things went on there towards the members of the resistance against Japanese occupation. The various buildings (building started around 1908) are the "Execution building" and the "Corpse removal unit". The women's prison (built in 1916) is particularly depressing with it's tiny underground cells.
| | |
| --- | --- |
| While I don't know much about South Korea history, this is clearly an important historical site. I saw the gate in various postcards which prompted me to go see it, it is rather smaller in real life than it appears in photos. | |
Gyeongbokgund Palace (The palace greatly blessed by heaven)
The site was the original site for the royal palace back in 1395, but it has been torn down and rebuilt a couple of times since then. First by the Japanese around 1592 during the Hideyoshi invasion and then again destroyed during the Japanese occupation. It was originally built when the dynasty moved from Gaegyeong to Seoul, as such it used to occupy the center of the city.
| | |
| --- | --- |
| Unfortunately while the site and buildings are fascinating this is a classic example of how the experience at such touristic sites is reduced by the large crowds. The view of the inner part of the palace (throne hall) shown on the right is only achieved by "fighting" ones way through crowds attempting similar photographs. I was there on a Saturday, perhaps it is busier then due to the addition of local visitors. | |
There is a major shopping/market street close to the palace, but frankly the stores flip between selling cheap nasty trinkets to the other extreme, lovely works of art but with more than a matching price tag. But if you are looking for something special and have the budget then you'll find it here.
Dongdaemum Market
| | |
| --- | --- |
| These markets are much more interesting and there's a flea market a few blocks away, it is sign posted on the roads. A canal runs down the middle, on one side there is a strip of pet/animal stores. Everything you could want from iguanas to eagles, mice to ferrets. The other side of the canal is mostly clothing, of the cheap variety. Lots of fun walking around these markets even though I doubt many visitors actually buy anything. | |
| | |
| --- | --- |
| In this region there are also streets of specialist stores. One street is largely metalworks, wire, locks, hooks, fences, pins, anything industrial you can imagine made by a metalworker. | |
Gangbyeon Techno Market
This sounded like a place to find the latest gadgets, not so. While it isn't clear in the photo, the first 4 or 5 floors are occupied by camera stores, the top 2 or 3 are almost exclusively mobile phones. These are also very large floor areas, in the case of the cameras each 3rd store or so was selling the same brand. There are only a certain number of products that Canon say, sell and each store seemed to have the whole range of cameras and lenses. I really don't see how a particular store distinguishes itself, none of them were particular busy. Similarly for the mobile phones, literally hundreds of outlets each with hundreds of phones for sale, there can't possibly be that number of different models and brands.
| | |
| --- | --- |
| | Tastefully promotion adorned shops across the road from the Techno Market. |
Custom Motorbikes
Some of the additions to the motorcycles to allow them to carry heavy loads were amusing. I saw a few with large boxes on the back, it certainly didn't look very comfortable for the driver.
Other
| | |
| --- | --- |
| | Drink vending machines litter street corners and the train stations. Its hard to work out what any drink is so it's mostly pot luck. They seem to be in two extremes, either sickly sweet or very bitter. There is another common machine that dispenses hot or iced tea and coffee. |
| | |
| --- | --- |
| I've heard of this before in Thailand but still wasn't tempted. "Dr Fish" sounds like the title of a James Bond movie. | Seeming endless streets for shopping are not hard to find. |
| | |
| --- | --- |
| | Nothing new here for cities in Asia, long stretches of apartment blocks. |
Day 2, December 2010
Winter in Seoul is a serious prospect, -4 degrees and it seems much colder in the wind. Visiting during this time should be reconsidered if you plan to spend time outside.
A delightful temple (Bongeunsa), near the COEX conference centre but the atmosphere seems like a million miles away from the mad rush of the city. The complex was first founded in 790 AD and is one of the more traditional Buddhist temples in Korea.
| | |
| --- | --- |
| The large statue most prominently visible from the street is Mireukdaebul, she symbolises the hope that Mailreyawill arrive to save humankind. It is the largest statue of Buddha in Korea. | |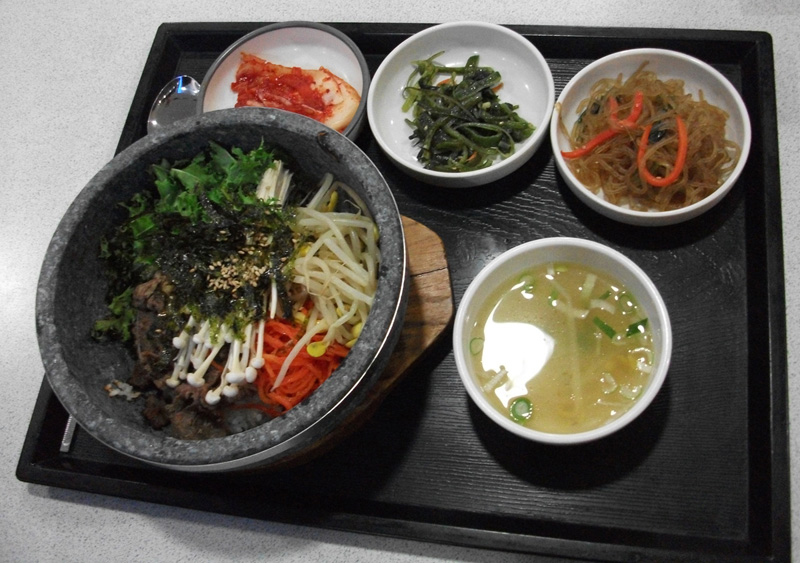 For just 7000 won (about AUS7$) you can get a decent meal at the (typically) underground food courts, in this case the COAX mall.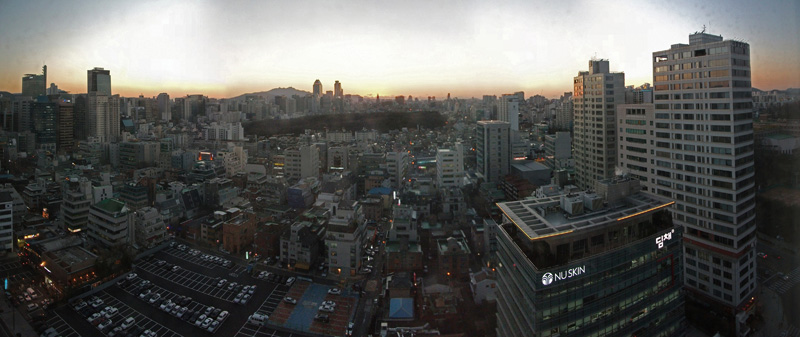 Panoramic view from COEX international hotel, dusk.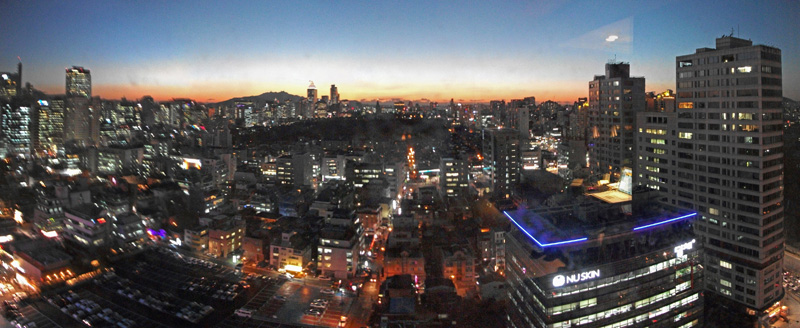 Same view after sunset.
| | |
| --- | --- |
| Interesting parking concept, three cars deep. | |