Exhibition: Ngintaka
South Australia Museum
29 March 2014 - 22 June 2014
See also: Photographic site record
Quotation: [South Australia Museum]. The South Australian Museum is providing the venue for the Ngintaka exhibition, a song-line from the Anangu Pitjantjatjara Yankunytjatjara (APY Lands), told by Anangu Traditional Owners. This multi-layered exhibition combines song, story, dance, painting, carving, tjanpi (coiled basketry sculptures), audio and a 360-degree film installation – Anangu and western knowledge complementing each other in the fields of archaeology, rock art and multimedia technology.
The following two frames are representative samples from the 360 degree video sequences captured within the cave. Original frames sizes are 5400x2700 pixels, video captured at 15 fps.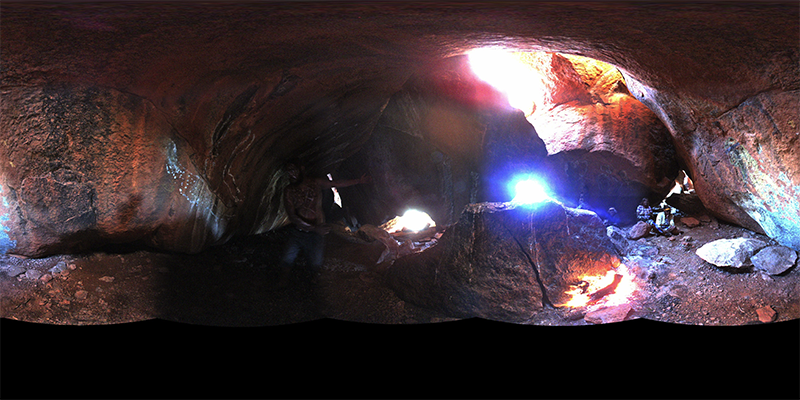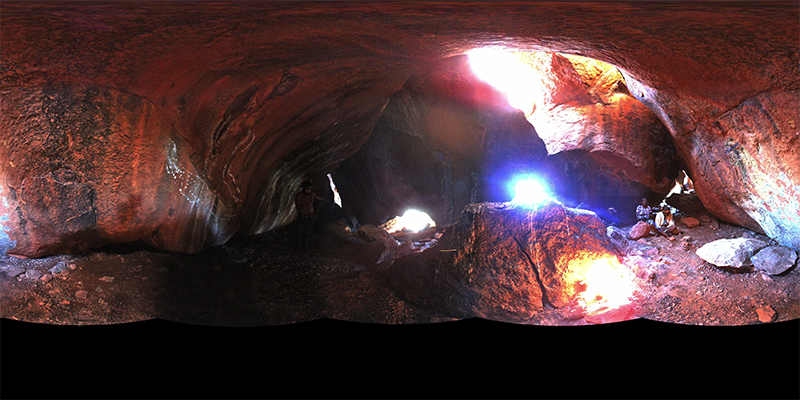 Such videos allow one to interactively explore, freely look around within the video recording. In conjunction with the iDome one can additionally become immersed since the whole visual field of view can be engaged with the digital content.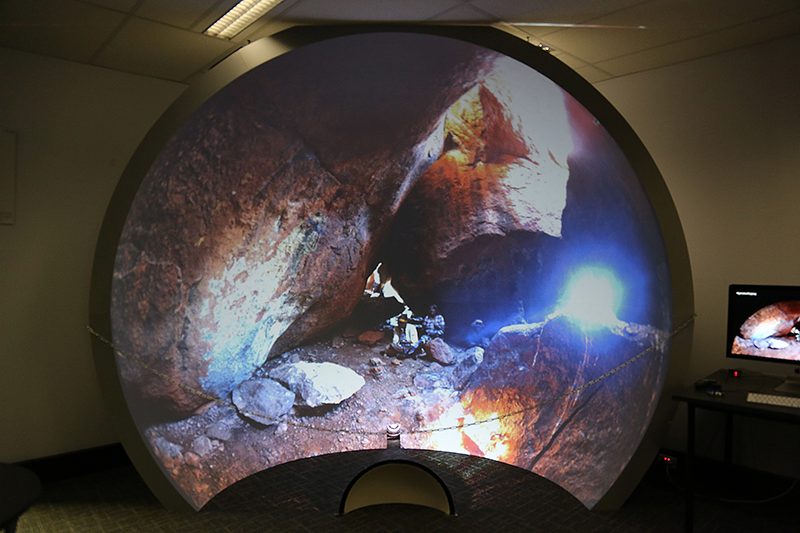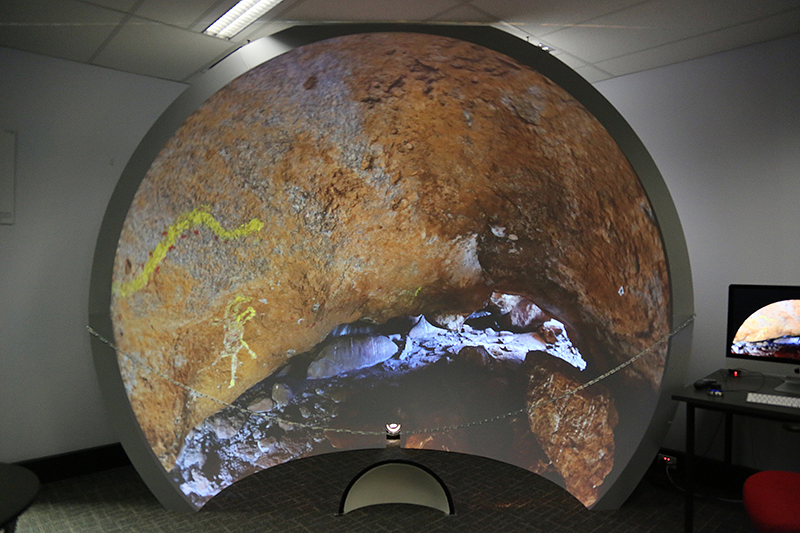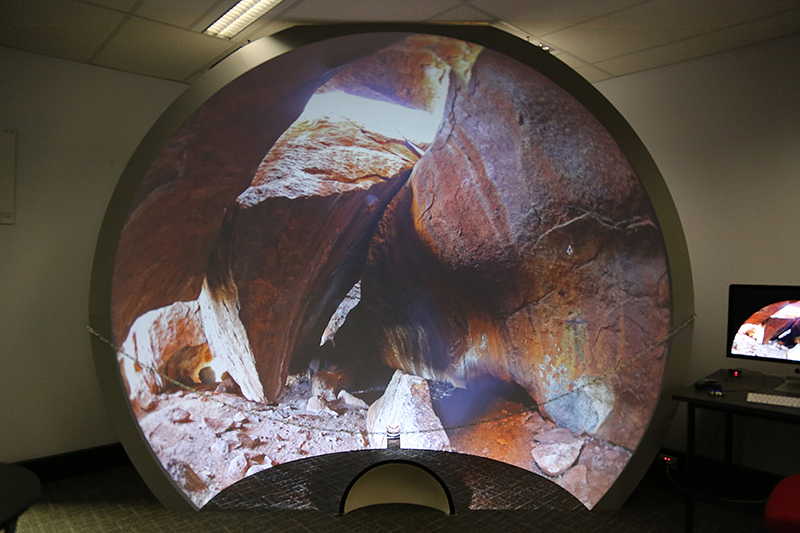 High resolution panorama views from the top of Mount Woodroffe.



While these panoramas are of limited vertical field of view (do not fill the iDome vertically), they do none-the-less fill ones horizontal field of view and provide horizontal panning within the still image.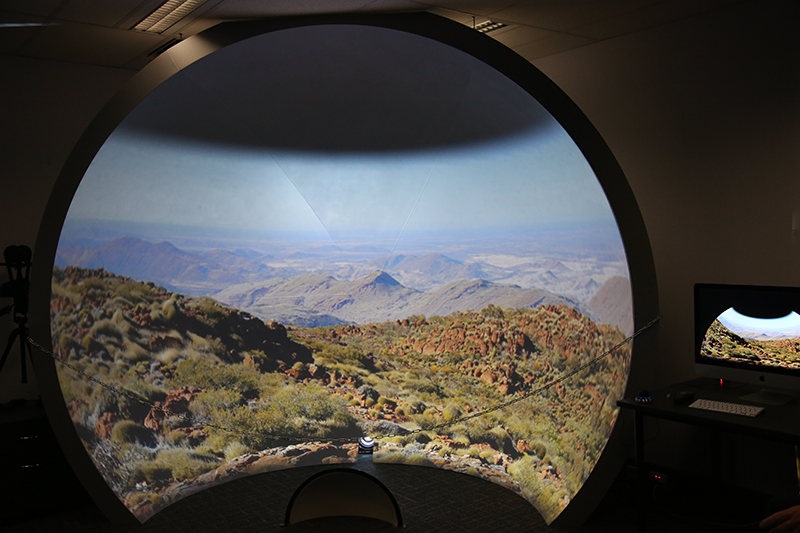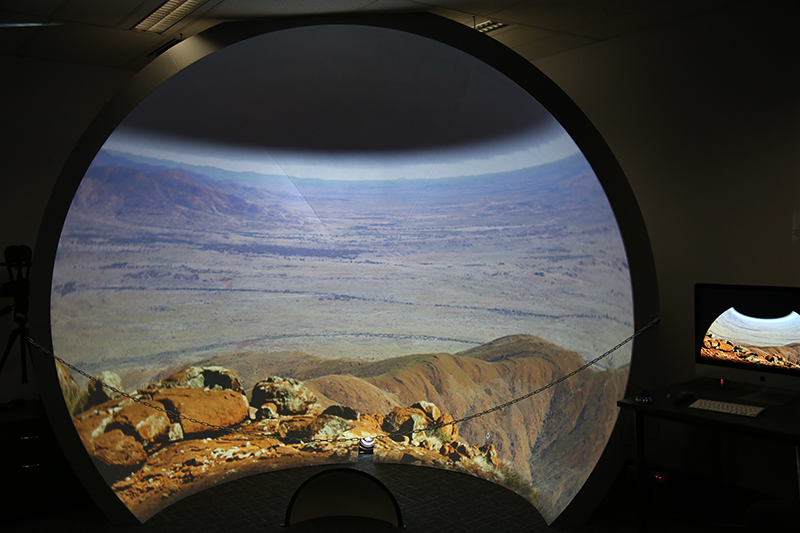 Quotation: [Ananguku arts] The exhibition is the culmination of years of work by Traditional Owners of the Ngintaka Tjukurpa who collaborated with archaeologists, anthropologists, film-makers and Museum staff to create a remarkable storytelling experience for the public. The exhibition tells the story of the giant Wati Ngintaka, the Perentie Lizard man, who travels across the APY Lands creating landforms and food sources in his epic quest for a superior grindstone. In 1988 Traditional Owners decided to share the open version of this story with a wider non-Indigenous audience. In 1994 they invited Traditional Owners from across the APY Lands to an Inma Festival, a celebration of dance and song, where they professionally recorded the Ngintaka Inma and story. The Anangu Elders aim was to record the Songline for their children and grandchildren to listen to after they passed on, and enable the wider non-Indigenous community to gain a greater understanding of Pitjantjatjara Yankunytjatjara culture.